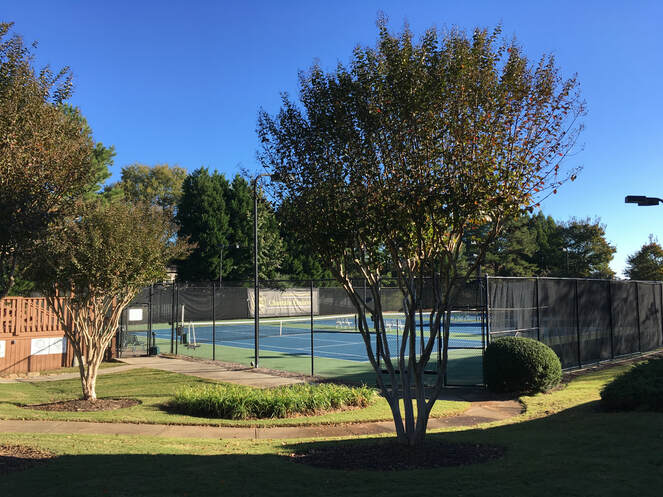 Tennis and Pavilion Reservations:
Our residents can plan tennis from 7:30 AM to 10 PM daily. You can walk on to play, but we do recommend that you reserve a court.
Login to Reserve HOLDMYCOURT
http://holdmycourt.com/reserve2/chastainglen
If you do not have an account on the HoldMyCourt website,
click below: http://holdmycourt.com/reserve2/chastainglen
If you wish to reserve the Pavilion at the Glen Pool on HOLDMYCOURT use Court Number
Rules for use of the Chastain Glen Pavilion
As residents of the Communities of Chastain Glen, Chastain Commons or Chastain Enclave, we are fortunate to have the use of an exceptional, outdoor Pavilion located on the Chastain Glen green overlooking the lake and fountain. Designed and built entirely by resident Tim Wilson, the Pavilion is available to homeowners at no cost for family picnics or gatherings, parties or other non-commercial events. Immediately adjacent to the covered tables are a playground and green area perfect for badminton or other family sports.
When you reserve use of the Pavilion, you agree to the following rules:

1) Homeowners must be party hosts.
*** Parties and non-commercial events must be hosted by a Community of Chastain Glen homeowner in good standing. Parties are limited to no more than 30 nonresidents unless prior approval is granted by the HOA Board of Directors.

2) Special permission required for pool use.
Reservation and use of the Pavilion does not extend rights to the pool area.
Any use of the pool requires that you obtain permission of the Community Board of Directors. To request this permission, contact Jennifer Mortimer from Community Management Associates, jmortimer@cmacommunities.com, or 404-835-9167, prior to use of the Pavilion.
In addition to receiving prior permission to use the pool, any party with 10 or more non-resident swimmers must hire a certified lifeguard.

3) Clean-up responsibilities
As host, you are responsible for cleaning up after use of the Pavilion. A $50.00 fee will be assessed if the Community is required to clean up for you.
All trash and garbage should be placed in plastic trash bags, tied and put in receptacles. Over-flow trash should be taken away by the homeowner.